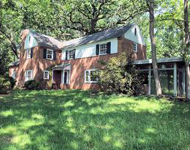 The Fairfax County Park Authority is hosting a hybrid (in-person/virtual) public information meeting on Tuesday, July 27, 2021, at 7 p.m. in the Multi-Purpose Room at Green Spring Gardens located at 4603 Green Spring Road in Alexandria, Virginia. The meeting will also be livestreamed on the White Gardens webpage. You can watch the livestream and provide written comment in the chat or you can call in to the meeting at 855-925-2801. Enter the meeting code: 9916.
The meeting will provide an opportunity for public questions and comments following a brief staff overview of the Fairfax County Resident Curator Program (RCP) administered by the Park Authority, and to discuss the use of the historic Margaret White Gardens house, located at 6711 Princess Anne Lane, Falls Church, Virginia, as a Resident Curator property.
The Resident Curator Program is designed to preserve Fairfax County's historic buildings by offering long-term leases, without charge, to private citizens or organizations in exchange for their financial commitment to rehabilitate and maintain the property in accordance with established preservation standards.
To find out more about the Resident Curator Program and Resident Curator properties, visit the Resident Curator Program website; or contact the Public Information Office at 703-324-8662.