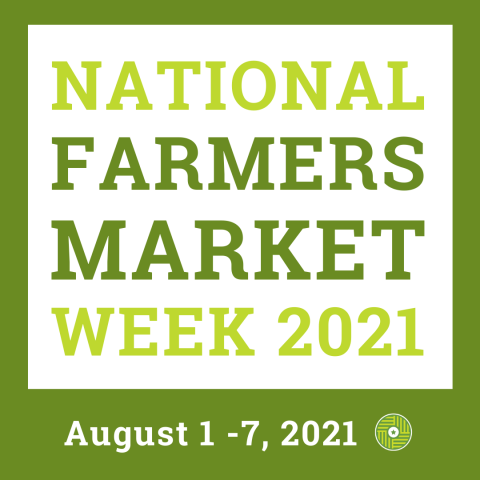 Celebrate National Farmers Market Week during the first week in August with a visit to one of Fairfax County's 10 producer-only Farmers Markets. Shop for fresh fruits and vegetables, farm-fresh meats and dairy products, and delicious baked goods, and meet the growers and bakers who produce them.
During the week of Aug. 1-7, 2021, farmers markets across the country are celebrating the resiliency of these marketplaces during the challenges of COVID-19. When conventional food supply chains failed at the start of the pandemic, farmers markets and local food systems demonstrated the importance of short supply chains, and interest in local foods spiked nationwide. Market managers found new ways to institute social distancing, regulate traffic flow and use advance ordering systems to keep shoppers safe. In Fairfax County, the Park Authority's markets opened a little later than usual last year to allow for these safety changes, but all were up and running when summer harvests were at their peak. This year, markets are back to business as usual, drawing crowds week after week.
The Park Authority's markets are open Wednesday through Sunday at locations across the county, and vendors may sell only what they raise on their farms or make from scratch. The farmers and producers all come from within a 125-mile radius of Fairfax County.
National Farmers Market Week is an annual celebration of farmers markets coordinated by the Farmers Market Coalition, a membership-based nonprofit organization that supports farmers markets nationwide through training, technical assistance and network-building. Coalition Executive Director Ben Feldman hailed farmers market operators this year for going to "herculean lengths to keep their markets open and to protect their communities."
Get details on hours, locations and products available at the Park Authority's Farmers Markets website. Follow @fairfaxfarmmarkets on Instagram for all the latest market news, events and updates.
For more information, call 703-324-8662 or email parkmail@fairfaxcounty.gov.