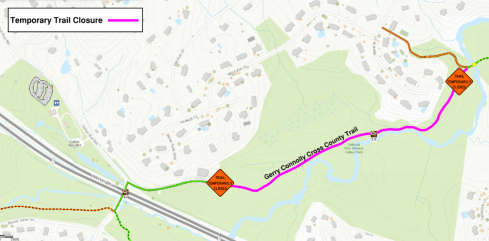 The Gerry Connolly Cross County Trail will be closed between mile markers 3.2 and 3.8 in the Difficult Run Stream Valley Park from Monday, July 19 through Friday, Aug. 6, 2021.
According to the Virginia Department of Transportation, the closure of this section of trail north of Route 7 (Leesburg Pike) will allow crews to perform maintenance on the Potomac Interceptor sanitary sewer. Signs and barricades will be in place to alert the public.
For more information, call 703-324-8662 or email parkmail@fairfaxcounty.gov.