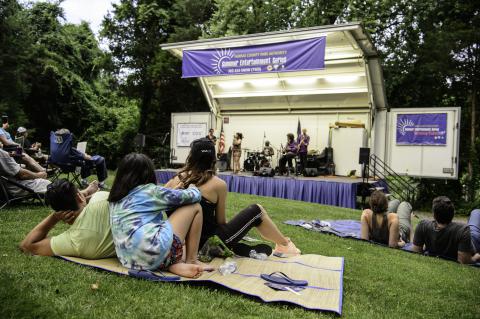 It's the middle of the summer and a great time to gather family and friends for a summer concert. The Fairfax County Park Authority has just the remedy for mid-summer blues with top performers featured during the Summer Entertainment Series. Thousands of residents and visitors have already flocked to parks to get an earful of the best in the music business, but August features other great acts, as well.
Appearing on Thursday, Aug. 19, 2021 are The Seldom Scene, an American bluegrass band formed in 1971 in Bethesda, Maryland. The Scene has been instrumental in starting the progressive bluegrass movement, and their shows include bluegrass versions of country music, rock and even pop. What does it take for a bluegrass band to remain popular for more than four decades? For The Seldom Scene, it's taken not only talented musicians, a signature sound, and a solid repertoire, but also a sheer sense of fun.
Join in the fun at the Nottoway Nights Concert Series held at Nottoway Park located at 9537 Courthouse Road in Vienna, Virginia. This is a free performance and runs from 7:30 until 8:30 p.m.
Coming to the stage on Thursday, Aug. 26, 2021 are Frank Solivan & Dirty Kitchen. Their critically acclaimed album "Cold Spell" earned a 2015 Grammy nomination for Best Bluegrass Album of the Year. In 2019, the band received their second Grammy nomination for "If You Can't Stand The Heat" for Best Bluegrass Album of the Year. Solivan, with banjoist Mike Munford, 2013 IBMA Banjo Player of the Year, award-winning guitarist Chris Luquette, and bassist Jeremy Middleton, simmer a progressive bluegrass stew of infinite instrumental, vocal and songwriting skills.
The Hunter Mill Melodies Concert Series takes place at Frying Pan Farm Park located at 2709 West Ox Road in Herndon, Virginia. Enjoy this free concert from 7:30 to 8:30 p.m.
Concerts are held outdoor and are canceled in case of inclement weather. Call 703-324-SHOW (7469) before leaving home for inclement weather updates. For details, visit the Summer Entertainment Series website.