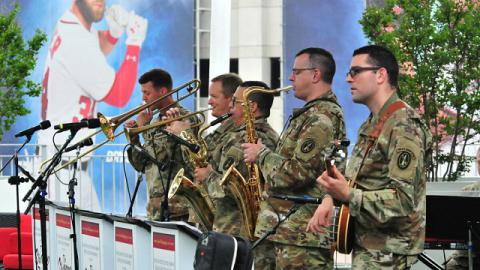 The Friends of Frying Pan Farm Park invites the community to enjoy free ice cream while supplies last on Thursday, Aug. 19, 2021, starting at 7 p.m. at Frying Pan Farm Park, located at 2709 West Ox Road in Herndon.
Ice cream will be available to visitors attending the U.S. Army Band's "Swamp Romp" concert. The band's live, in-person performance is part of the Fairfax County Park Authority's Summer Entertainment Series, and is offered free of charge, thanks to generous sponsors.
The friends group is a nonprofit organization that owns the 100 farm animals that live on Frying Pan Farm Park's working farm. The friends raise money to support the farm, and feed, shelter and provide medical care and other services for the animals.
"The farm is one of the things that makes Frying Pan one of the most popular of Fairfax County's 429 parks," Frying Pan Farm Park Manager Nicole Mitchell said. "It takes a lot to keep the farm in top condition and keep the animals healthy. Our partnership with the friends group makes that happen, and we're excited for the public to meet our friends at their ice cream social on Aug. 19."
In 2020 and early 2021, the friends' annual fundraising events had to be canceled due to the pandemic. The group asked the public to help replace the lost funding, and the public responded with generous donations.
"We can never thank the public enough for all they did to help us care for our farm animals during a very difficult time," Friends President Jack Pitzer said. "This ice cream social is just a small way to show our appreciation for all the community support we receive."