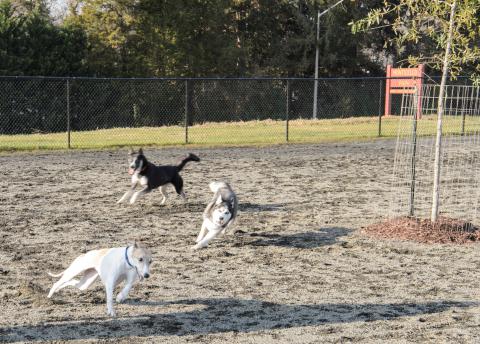 The Fairfax County Park Authority Board endorsed the Park Authority Dog Park Study Report at their regular meeting on July 28, 2021. The report will serve as a guiding document for Park Authority dog park planning, design, operations and maintenance, volunteering, partnerships, and rules/enforcement.
The comprehensive study, which began in 2019, was conducted by a cross-divisional Park Authority team consisting of subject matter experts from across the agency. The study relied on the results from a public countywide survey asking park visitors to provide their input and ideas about dog parks, as well as identification of best practices, extensive research, data and policy analysis, and industry literature. The public input received throughout the study, coupled with this in-depth research and analysis over a two-year period, informed the findings and recommendations in the Dog Park Study Report.
Some of the study's findings include:
Public survey respondents indicated that room for dogs to run, trash receptacles, shade, water and parking are the most important features to include in a dog park.
Respondents noted surface conditions, inattentive visitors, and a lack of water were the top concerns in Park Authority dog parks.
The study recommends that the Park Authority construct at least one new dog park and utilize the list of master planned but unbuilt dog parks for potential locations.
New dog park design guidelines and siting criteria were developed as part of the study and are included in the report. The study recommends the use of these guidelines and criteria in the planning and construction of new dog parks in the future.
Dog park volunteer teams are encouraged; over 700 survey participants expressed an interest in learning about volunteer opportunities in Park Authority dog parks.
No changes to existing rules and hours are recommended, but there is a need for additional enforcement, which can be supported by volunteer presence and efforts.
The Dog Park Study Report also identifies several implementation strategies and provides convenient access to guidelines, checklists and forms to aid in the development of future Park Authority dog parks and support the operations of existing Park Authority dog parks.
The final version of the Report along with other supporting information will be posted on the Dog Park Study Webpage this September.