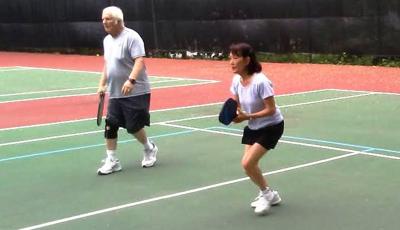 The Fairfax County Park Authority (FCPA) seeks the public's input on the emerging sport of pickleball and invites the community to attend a virtual meeting to introduce its draft Pickleball Study. The meeting will be hosted online via PublicInput and attendees may participate via web browser, mobile device, text message or phone call. The event will be held on Tuesday, Sept. 14, 2021, at 7 p.m. and will be available online afterward for those unable to attend live.
County agencies have received numerous requests from the public to provide additional pickleball facilities within its parks, Rec Centers and community centers. In response to these requests and the growing interest in this sport, the Park Authority initiated a pickleball feasibility study. As part of this effort, the Park Authority met with stakeholder groups and conducted a survey for the public from December 2020 to January 2021. The draft study was presented to the Park Authority Board on July 28, 2021, and it recommends how the Park Authority can strategically respond to the desire for pickleball and where and how pickleball courts should be provided.
For virtual meeting information or to review and comment on the draft document when available, please visit the Park Authority's Pickleball Study webpage. Comments will be accepted from Sept. 1 to Sept. 30, 2021 and may be submitted during the virtual meeting or any time during the comment period via the study's webpage; or by contacting the Public Information Office at parkmail@fairfaxcounty.gov or 703-324-8662.
To find a place to play pickleball in a Park Authority park, please visit the FCPA Park Locator online map.
For general information, please contact the Public Information Office at parkmail@fairfaxcounty.gov or at 703-324-8662.