An individual and a garden organization will share honors this year as recipients of the 2021 Sally Ormsby Environmental Stewardship Award. The Fairfax County Park Authority Board has named Hidden Oaks Nature Center volunteer Bob Dinse and the Green Spring Extension Master Gardeners program as award winners.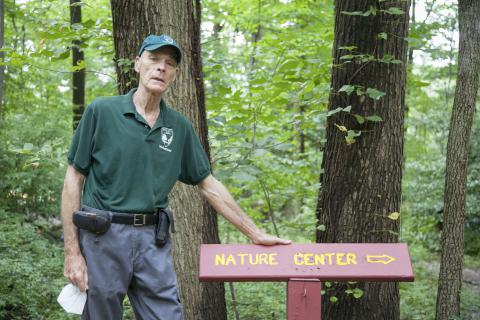 Bob Dinse volunteers roughly 10 hours a week at Hidden Oaks and has been active there for the past 12 years. Among his many contributions, Dinse maintains and improves the park's Old Oak Trail, alleviates erosion and stream bank deterioration, and creates and enhances gardens. He has donated hundreds of dollars' worth of native ferns, native plants, nuts and birdseed. Wearing his Park Authority hat and Hidden Oaks logo shirt, he greets dog walkers and trail hikers by name during each of his 6 a.m. shifts. He happily answers questions about the park, its resources, programs and staff; and he meets with site management to provide updates and discuss current and future projects. Through his actions, he serves as a Park Authority ambassador and spreads the message that each person can make a positive difference.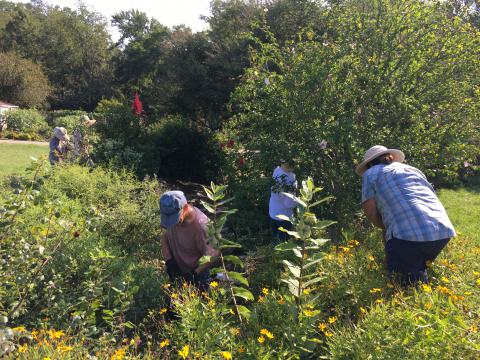 The Green Spring Extension Master Gardeners (GSEMG) program has been an integral part of Green Spring Gardens since its inception in 2002 and has trained more than 600 Virginia Cooperative Extension (VCE) Master Gardeners to educate community members and promote environmentally sound horticulture practices throughout Fairfax County. Program participants educate the public on sustainable gardening practices and serve as volunteer instructors for the Green Spring Children's Program on nature and gardening. As garden docents, they lead interpretive tours through Green Spring's demonstration gardens. The volunteers have provided a long-running series of gardening classes, established and maintain four demonstration gardens, organize a yearly EcoSavvy Symposium at Green Spring, and host a VCE Help Desk to answer gardening questions. Over the past three years alone, the Extension Master Gardeners have brought in over $12,000 in revenue to Green Spring and have educated nearly 500 visitors and more than 6,000 school children.
The Sally Ormsby Environmental Stewardship Award was established by the Park Authority Board on Nov. 14, 2007, in recognition of Sally B. Ormsby's many years of service as a citizen steward. This award recognizes individuals and organizations whose actions embody the spirit and values of stewardship and result in tangible environmental benefits to Fairfax County parks.
This year's winners will be honored at a virtual Park Authority ceremony in November.
For more information, contact the Public Information Office at 703-324-8662 or at parkmail@fairfaxcounty.gov.