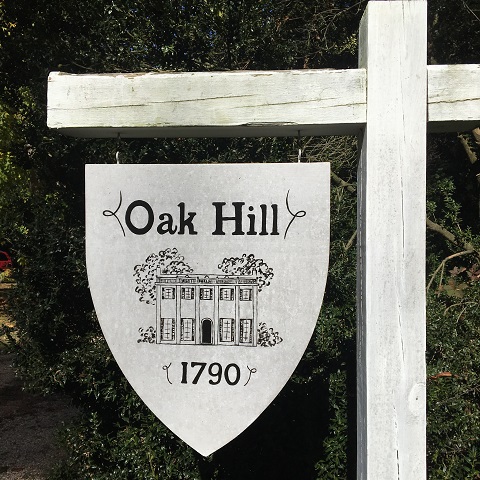 Take a virtual tour of one of the oldest homes in Fairfax County with the Historic Oak Hill Open House on Saturday, Sept. 18, 2021, at 10 a.m. Not only will you learn about the architecture, but you will hear the names and explore the lives of enslaved individuals who toiled at the site.
Richard Fitzhugh – a descendant of one of the first land-grant holders in Northern Virginia – constructed Oak Hill circa 1790 on the historic Ravensworth tract in Annandale. The late Georgian-style dwelling was renovated in the Colonial Revival style during the late 1930s by renowned restoration architect Walter M. Macomber. Its name comes from two large oak trees on the property. Oak Hill is also known for its columns of 200-year-old boxwoods.
The privately owned property has been preserved under a historic and conservation easement that calls on the owners to open their doors to the public periodically to share this slice of county history. However, due to the COVID-19 pandemic, the traditional fall open house will be presented in virtual format again this year. Hear from the current homeowners, former Fairfax County Supervisor and Board Chairman Sharon Bulova, and Braddock District Supervisor James Walkinshaw as you enjoy this glimpse into Fairfax County's past.
Residents, historians and government staff have collaborated with Fairfax County's Channel 16 to bring this virtual excursion directly to your computer or mobile device during a YouTube Watch Party on Sept. 18. Join us in the chat during the premiere to ask questions or share your feedback on this historic landmark. The video – without chat options – will also be available on the Oak Hill website after the premiere.
This video tour, enjoyed last year by more than 1,000 viewers, is made possible by the efforts of the Fairfax County Park Foundation, Fairfax County Park Authority, Northern Virginia Conservation Trust and Fairfax County Board of Supervisors.
To learn more about Historic Oak Hill, visit the Oak Hill website.
For more information, contact the Public Information Office at 703-324-8662 or at parkmail@fairfaxcounty.gov.