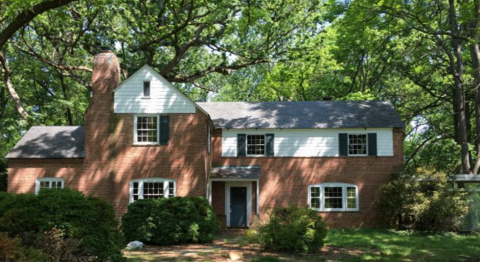 Another Fairfax County park property has become available through the Resident Curator Program. On Friday, Sept. 10, 2021, the Fairfax County Park Authority (FCPA) will begin accepting applications for the rehabilitation and long-term maintenance of the historic White Gardens house located at 6711 Princess Anne Lane, Falls Church, Virginia.
The Resident Curator Program offers long-term lease agreements to qualified tenants in beautiful public park settings. The curator leases are without charge in exchange for a financial commitment and approved rehabilitation of the Park Authority's underutilized historic properties. The deadline for submitting applications for the White Gardens property is Wednesday, Nov. 10, 2021.
The White Gardens House is located within John C. and Margaret K. White Gardens Horticultural Park. In 1938, John C. and Margaret K. White bought 13 acres, which creates the park today. The house was constructed in 1939.
To identify potential lessees in the Resident Curator Program, FCPA is seeking proposals for the rehabilitation of the White Gardens house in accordance with the Secretary of the Interior's Standards for Rehabilitation. Curators will be determined through an open and competitive process, based on several criteria, including a formal proposal, demonstrated experience and competency in historic preservation techniques, financial capabilities, and the incorporation of public benefits.
Complete application forms and additional information at the Resident Curator Program website.
For more information, contact Stephanie Langton, Resident Curator Program Manager, at 703-324-8791 or stephanie.langton@fairfaxcounty.gov.