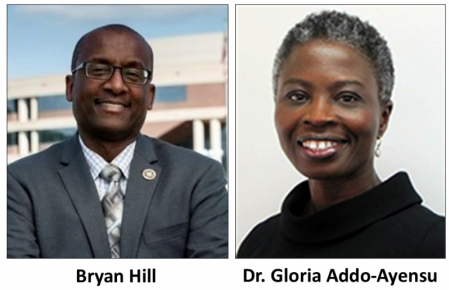 The Fairfax County Park Authority Board is honoring two individuals this year with Chairman's Choice Awards for outstanding long-term support, service to, and advocacy on behalf of the Park Authority. The 2021 winners, County Executive Bryan Hill and Fairfax County Director of Health Dr. Gloria Addo-Ayensu, are being hailed for their outstanding leadership during the challenging COVID-19 pandemic.
Hill is being honored for utilizing two very necessary tools during the pandemic -- information and hope. Board sentiments reflect the importance of these two factors and the nomination letter noted, "You played a vital role in helping the Park Authority continue its mission to 'enrich quality of life for all members of the community' by encouraging employees affected by facility closures to enter the county Job Match process that provided options for reassignment." The action gave the Park Authority much-needed coverage as residents flocked to parks and trails.
Addo-Ayensu was praised for providing overall leadership and direction for public health during a critical time for the community and the Park Authority. The Board noted in its nomination that Addo-Ayensu helped the agency continue its mission "by providing the guidance and support the Park Authority needed to respond appropriately to the COVID-19 threats, to adapt and create policies and procedures necessary to keep patrons and staff safe, and to reopen and restart facilities and programs as vaccinations ramped up and the initial threat of infection diminished." 
The Park Board established the Chairman's Choice Award in 2019. It honors those whose efforts provide a critical contribution to the agency and help sustain and expand its nationally accredited facilities and programs. The contributions of the recipients of this award must also support the One Fairfax policy.
This year's winners will be honored at the virtual Elly Doyle Park Service Award ceremony in November.
For more information, contact the Public Information Office at 703-324-8662 or at parkmail@fairfaxcounty.gov.