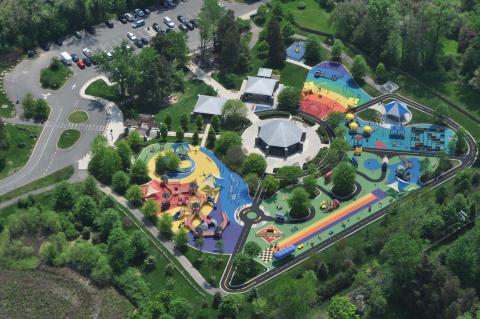 The Fairfax County Park Authority is holding a Public Comment Meeting to gather public input on the draft master plan revision for Clemyjontri Park. The meeting will be held on Thursday, Oct. 28, 2021 at 7 p.m. in the cafeteria at Franklin Sherman Elementary School located at 6633 Brawner Street, McLean, Virginia.
The master planning revision process has been underway for some time, slowed in part by COVID-19. The kickoff meeting was held on Dec. 17, 2020, at which time, Park Authority staff shared information on the park's history, the planning process, and a preliminary concept for the undeveloped phase III area of the park. The public provided initial comments to guide the master plan revision process.
At the meeting on Oct. 28, Park Authority staff will present a summary of the draft master plan revision and take questions and comments. Attendees will have the opportunity to speak for three minutes and may register to speak the night of the meeting. Comments will be accepted through Monday, Nov. 29, 2021. Staff will then consider all comments received in the final draft of the plan, which will be presented to the Park Authority Board for consideration in January 2022.
For more information or to review and comment, please visit the Clemyjontri Park Master Plan Revision project website; or contact the Public Information Office at 703-324-8662 or by email at Parkmail@fairfaxcounty.gov.