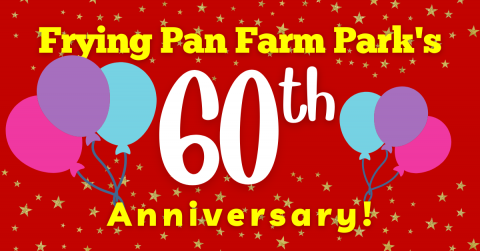 Area families are invited to Frying Pan Farm Park to celebrate its 60th anniversary on Saturday, Oct. 16, 2021, from 10 a.m. to 4 p.m. Admission is free. The park is located at 2709 West Ox Road in Herndon, Virginia.
Park Authority Board Chair Bill Bouie and new Park Authority Executive Director Jai Cole will kick off the festivities by presenting the Friends of Frying Pan Farm Park with a resolution from the Park Authority Board recognizing the farm's 60th anniversary. The presentation and a sneak peak into the day's festivities will be livestreamed on the Park Authority's Facebook page at 10:30 a.m. 
Frying Pan became a Fairfax County Park Authority site in 1961. It's now one of the most popular parks in Fairfax County.
Located just four miles from Dulles International Airport, it has a working farm that allows families to get up close and personal with live farm animals, including horses, cows, pigs, sheep, goats and chickens. Visitors can learn what U.S. agricultural life was like almost 100 years ago, as they tour historic buildings and see antique farm equipment.
This 135-acre property is also home to a modern equestrian center, a preschool, and a mile-long nature trail. The park is open more than 360 days per year and offers classes, programs, special events and rental facilities.
During the festivities, the public can celebrate Frying Pan's 60th anniversary with food trucks, a tractor parade, tours, farm demonstrations, fun photo ops, a scavenger hunt and more.
"We invite the whole community to join us for this outdoor celebration on a wonderful autumn day," said Frying Pan Farm Park manager Nicole Mitchell. "Families can take their time and enjoy as many or as few of the free activities as they like."
This event is being cosponsored by the Fairfax County Park Foundation. Details about Frying Pan's rich history as well as the Park Authority's past are available online at the History of Fairfax County Park Authority timeline. Current information about the Frying Pan Farm Park can be found at the Frying Pan Farm Park website.