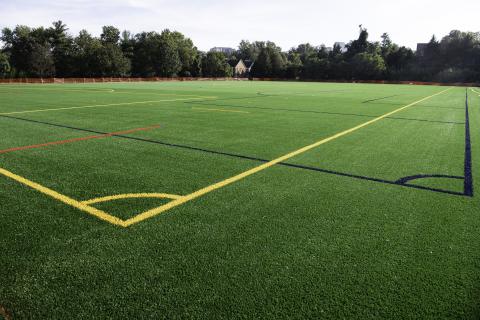 The Fairfax County Park Authority, in collaboration with the Fairfax County Board of Supervisors and McLean Youth Soccer Association, will hold a ribbon-cutting ceremony to mark the grand opening of Holladay Field in McLean, Virginia. The celebration begins at 10 a.m. on Saturday, Oct. 30, 2021.
This is a unique project with several key partners, each instrumental in helping to make this project possible and providing funding for this synthetic turf field conversion. Clearly, Dranesville District Supervisor John Foust's support of the project was key. So too, the approval of the Park Authority Board which, in partnership with MYS, approved plans in June 2020 to convert the old grass field at Holladay Field Park into a synthetic turf field.
Funding for the $1.56 million project came through voter-approved Park Bonds, as well as contributions from MYS, the Embassy and Ambassador Yousef Al Otaiba of the United Arab Emirates, and Roger Krone, CEO of Leidos -- who, as parents of soccer players and soccer enthusiasts, wanted to assist with the project via contributions to MYS -- and the Fairfax County Park Foundation. More than $725,000 was contributed from these sources.
The project included the design of a full-sized rectangular soccer field with options to use the field for football, men's lacrosse, women's lacrosse, field hockey and mini soccer. The project also included landscape improvement, two underground stormwater management facilities, a bleacher pad, and access trail. The MYS also donated a bench to honor the Embassy of the United Arab Emirates and Leidos for their very generous donation that helped build the field.
This field conversion project exemplifies the strong partnership the Park Authority has built with MYS and community members to develop sustainable recreational facilities for youth in Fairfax County. The ribbon-cutting ceremony will include brief remarks, followed by a reception, to honor this partnership.
Holladay Field is located at 1311 Spring Hill Road, McLean. Parking will be available at nearby Spring Hill Elementary School.
For more information, contact the Public Information Office at 703-324-8662 or at parkmail@fairfaxcounty.gov.