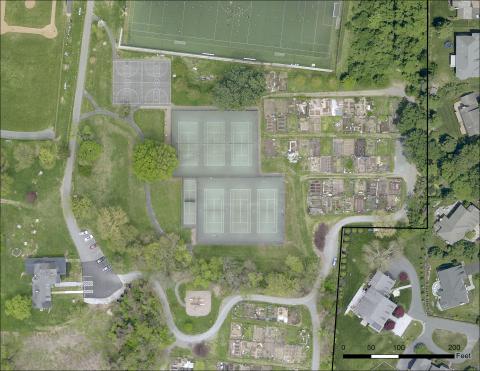 Pickleball has increased in popularity in recent years throughout the country and more specifically within Fairfax County. This emerging sport has created a growing need for new courts and facilities to accommodate pickleball players. From 2014 to 2019, pickleball participation grew by more than 7%, while Americans' overall activity level stayed flat, according to the Sport & Fitness Industry Association. Learn more about FCPA's recent Pickleball Study.
To accommodate the growing number of pickleball players in the greater McLean area, the Fairfax County Park Authority will be presenting pickleball court implementation options at Lewinsville Park to gather public feedback. The park is located at 1659 Chain Bridge Road in McLean, Virginia. There are currently six tennis courts at Lewinsville Park that require resurfacing due to poor conditions. The presentation will focus on options to improve the courts and introduce pickleball at the park either as shared-use courts with tennis or as dedicated pickleball courts.
In collaboration with the Dranesville District Supervisor's Office, the Park Authority will hold a virtual public meeting on Wednesday, Dec. 1, 2021, at 7 p.m. A facilitated comment period will be hosted during the meeting, and comments will be accepted through Dec. 31, 2021. 
For information about the potential project and how to participate in the meeting via phone or email, visit the website. For more information, contact the Public Information Office at parkmail@fairfaxcounty.gov or 703-324-8662.