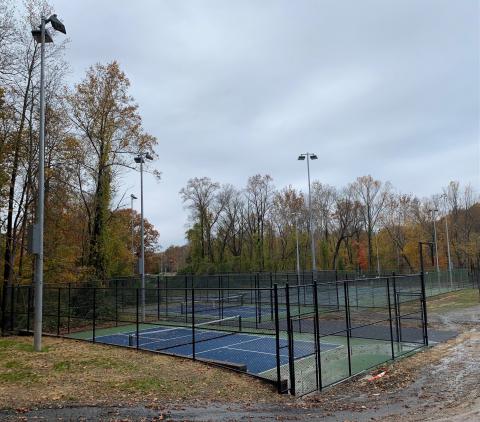 The Park Authority is responding to the growing popularity of pickleball in Fairfax County with the opening of two dedicated pickleball courts at Wakefield Park in Annandale, Virginia.
Some finishing touches still need to be added, but courts 12 and 13 are now open for pickleball games. In addition, tennis courts 9 and 10 have been marked with yellow lines for pickleball, along with the white lines for tennis. As of now, there are no portable pickleball nets on site. Players can use the tennis nets until new pickleball nets arrive.
Work continues on the construction of paths to provide ADA access to the new courts. In spring, two additional color coats will be added to the court surfaces and any minor court imperfections will be corrected.
The courts are in Wakefield Park, near the Audrey Moore Rec Center at 8100 Braddock Road, Annandale, Virginia.
For more information, contact the Public Information Office at 703-324-8662 or at parkmail@fairfaxcounty.gov.