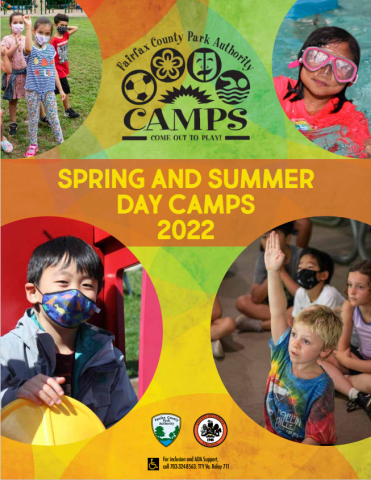 Last year more than 95% of Fairfax County Park Authority (FCPA) in-person camps filled up and had wait lists. With lower camp sizes still in place, plan now to guarantee a spot in your child's favorite spring break or summer camp. Although registration for spring break and summer camps does not open until Jan. 11, 2022, you can browse the FCPA Spring and Summer Day Camps 2022 Guide now with your children, mark the camps you want, and be ready when registration begins. Find camps for all your children in one place this summer!
Voted as one of Northern Virginia Magazine's Best Summer Camps for several years in a row, the Park Authority offers more than 1,000 summer day camp options at dozens of convenient locations including Rec Centers, nature centers, historic sites, lakefront parks, golf courses and schools, as well as virtual camps for those who wish to stay at home. Children ages 3 to 17 can choose from an increased number of outdoor adventures, such as boating, fishing and biking camps; an array of skill-development camps, including international soccer, basketball, baseball, gymnastics, cheerleading and archery; and specialty camps such as STEM programs, chess, sewing and cooking. FCPA has something for everyone. Many camps offer swimming at Rec Centers each day.
Safety is our priority, and all of our camps follow guidelines established by the local health department, the Centers for Disease Control and Prevention, and the Virginia Governor's orders. Camp sizes are smaller, and children stay with a small group throughout the day. Likewise, our virtual camp providers maintain the same high standards with a focus on online safety and privacy protection.
Summer camps will be added to the searchable registration database on Dec. 28, 2021, ahead of the Jan. 11, 2022 registration.
For more information, call the registration hotline at 703-222-4664, Monday through Friday from 9 a.m. to 4 p.m. You can register with confidence knowing that you can receive a full refund for any camp should camp offerings change due to COVID-19 restrictions.