Ceremonies took place on Sunday, April 3, 2022, to officially cut the ribbon and open the doors of the historic Miller's House at Colvin Run Mill in Great Falls, Virginia. Officials, descendants of past millers who had occupied the historic house, Park Authority staff and guests attended the brief ceremony, followed by tours of the house.
After extensive renovation, the house now offers an interactive design representing home life in the early and late 1800s. The two lower rooms of the house have been designed for guests to immerse themselves in the past. Sit at the writing desk, play a game from 1810 or try out an 1890s toy. The multi-year project was completed in 2020, but due to COVID-19 the opening was delayed.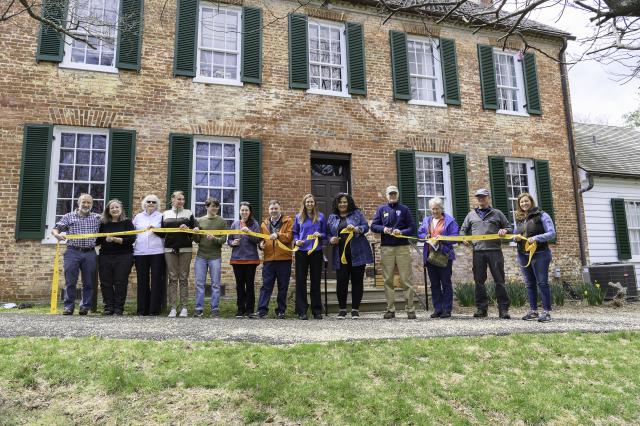 Pictured from left to right are: Brian Cockerill, Virginia McGavin Rita, Alice Dimsey Lee, Nadine M. Lee (all descendants of previous occupants/miller); Philip Hoppes; Loretta Paruti, David B. Gordon; Julie Gurnee, Site Manager, Colvin Run Mill; Jai Cole, Executive Director, Fairfax County Park Authority; Tim Hackman, Dranesville District Representative, Fairfax County Park Authority Board; Mary Olien, Operations Branch Manager, Resource Management Division Park Authority; Jim Waller, President, Friends of Colvin Run Mill; and Laura Grape, Director, Resource Management Division, Park Authority.
Visitors also had the chance to tour the 200-year-old water-powered mill while it was running and grinding grain, purchase stone ground flour, cornmeal and grits from the site, and walk the colorful grounds currently in bloom.
For more information, email fcpacolvinrunmill@fairfaxcounty.gov; or call 703-759-2771. Colvin Run Mill is located at 10017 Colvin Run Road in Great Falls, Virginia.
Media Note: Click on the photo to download.