On Saturday, April 16, 2022, the Fairfax County Park Authority joined the Fairfax County Board of Supervisors and the Annandale-North Springfield Little League (ANSLL) to rename the Pine Ridge Park baseball facilities to the Kehrer Baseball Complex in Annandale, Virginia. The change was made to honor two longtime ANSLL volunteers Darryl and Dawn Kehrer.
At the request of ANSLL, the Park Authority Board voted to name the park's baseball area the Kehrer Baseball Complex at Pine Ridge Park at its meeting on May 26, 2021. The late Darryl Kehrer served as an ANSLL and Annandale High School Boosters volunteer for a combined 29 years and served three years as ANSLL president. During his presidency, he led the ANSLL Board in a contentious fight against a long-term private effort to acquire the fields for commercial usage, helping to save ANSLL's Pine Ridge Park flagship complex. The successful fight preserved Pine Ridge for local youth as a baseball and soccer complex. On behalf of ANSLL volunteers, Kehrer co-accepted the prestigious 1997 Fairfax County Park Authority Elly Doyle Award for outstanding service to the park. His wife Dawn volunteered for three decades as well and could often be found painting dugouts or doing other facility improvements alongside her husband.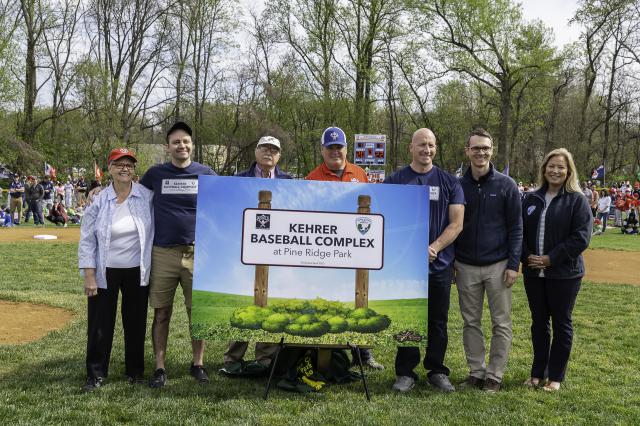 Pictured from left to right are: Dawn Kehrer; Paul Kehrer, son of Darryl and Dawn Kehrer; Ron Kendall, Mason District Representative, Park Authority Board; Don Pedersen, President, Annandale-North Springfield Little League; Alan Kehrer, son of Darryl and Dawn Kehrer; James Walkinshaw, Braddock District Representative, Fairfax County Board of Supervisors; and Sara Baldwin, Deputy Director/COO, Fairfax County Park Authority.
See more photos at https://flic.kr/s/aHBqjzLb4n.
Media Note: Click on the photo above to download.