Members of the project team, Riverbend Park staff, agency leadership and members of the Friends of Riverbend Park (FORB) gathered on Tuesday, June 28, 2022, to officially cut the ribbon at the new Riverbend Park maintenance shop in Great Falls.
Pursuant to the approved master plan, the former manager's house was demolished, and a new maintenance facility was built. The facility includes a fenced maintenance yard for equipment and vehicle storage, interior space for equipment, vehicles and a work area. A new septic field was installed, as well as a public shared unisex restroom. Total project cost was $1.3 million funded via 2012 Park Bonds.
Of particular interest to the project team was the ability to limit removal of trees initially, estimated at 100 trees to be removed. In the end, in collaboration with Urban Forestry and Land Development Services, only two were removed. Rain barrels and a cistern were also installed to collect rainwater.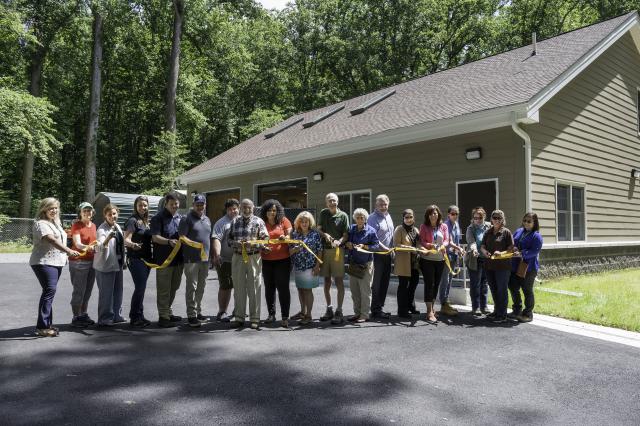 From left: Sara Baldwin, Deputy Director, FCPA; Nancy Waugh, FORB member and park neighbor; Laura Grape, Resource Management Division Director; Kylie Starck, Visitor Services Manager, Riverbend Park; Casey Pittrizzi, Natural Resources Manager, Riverbend Park; John Callow, Park Manager, Riverbend Park; Matt McNeal, Maintenance Crew Chief, Riverbend Park; Hugh Morrow, FORB President; Jai Cole, Executive Director, FCPA; Cindy Gersony, FORB Board Member; Tim Hackman, Dranesville District Representative, Park Authority Board; Mary Olien, Operations Branch Manager, Resource Management Division; Matt Tauscher, Bowman Consulting; Zeena Al-Nasser, SWSG; Aimee Vosper, Deputy Director, FCPA; Maria Harwood, Urban Forestry; Toni Woods, Urban Forestry; Heather Lynch, Project Manager, Planning & Development; Sayonara Aguilera, Planning & Development.

Media Note: Click on the photo above to download.