Thousands of residents and visitors filled Lake Accotink Park on Saturday, Aug. 27, 2022, as the Fairfax County Park Authority marked the 60th anniversary of this popular lakefront park, featuring free amusements, special programming, trail hikes, children's activities and displays from local organizations. The celebration also drew several members of the Fairfax County Board of Supervisors, many of whom represent a section of the park in this district, members of the Park Authority Board, the Friends of Lake Accotink Park and Park Authority staff.
The Park Authority's history with Lake Accotink began in 1960 with the leasing of 242 acres of land that at the time was owned by the federal government. The modest development of boating facilities and concessions were soon followed by the addition of trails, picnic shelters and a playground. Through the early 1960s, numerous smaller acquisitions expanded the park by nearly 50 acres. In 1962, the lake was added to the lease, and on Aug. 25, 1965, Lake Accotink was officially opened to the public.
Lake Accotink Park provides opportunities for outdoor recreation and enjoying nature across its 449 acres. Central to the park is a 55-acre lake, surrounded by wetlands and forest. The park offers opportunities to hike and bike miles of trails, fish from the shoreline, and observe the changing of the seasons. From May through October, the park offers bike, canoe and paddle boat rentals, as well as tour boat rides around the lake. A miniature golf course, historic carousel and playgrounds provide amusements. This is a great place to enjoy a family picnic or social gathering – among the trees, on the grass or in a covered pavilion. Lake Accotink Park also serves to build a sense of community through hosting summer concerts and camps.
Officials gathered for remarks and then cut a birthday cake.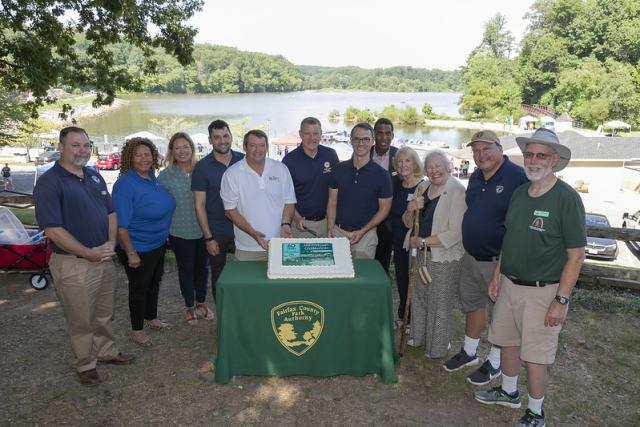 (From left): Chris Goldbecker, Manager Parks, Section Supervisor; Fairfax County Park Authority (FCPA); Dr. Cynthia Jacobs Carter, Lee District Representative, Park Authority Board; Sara Baldwin, Deputy Director, Chief Operating Officer, FCPA; Kiel Stone, Braddock District Representative, Park Authority Board; Springfield District Supervisor Pat Herrity, Fairfax County Board of Supervisors; Jeff McKay, Chairman, Fairfax County Board of Supervisors; Braddock District Supervisor James Walkinshaw, Fairfax County Board of Supervisors; Franconia District Supervisor Rodney Lusk, Fairfax County Board of Supervisors; Del. Vivian Watts, 39th District, House of Delegates; Mason District Supervisor Penny Gross, Fairfax County Board of Supervisors; Dan Grulke, Manager Lake Accotink Park; Jim Hickey, Secretary, Friends of Lake Accotink Park.
Media Note: Click on the image above to enlarge or download. 
See all 60th anniversary photos at the Lake Accotink 60th Anniversary Flickr album.