It was a great day for local pickleball enthusiasts as new, dedicated pickleball courts were officially opened. The Fairfax County Park Authority hosted a ribbon-cutting ceremony at Lewinsville Park in McLean, Virginia, on Saturday, Oct. 15, 2022.
Enthusiasts from across the community turned out to celebrate the new facilities. The celebration marks completion of new dedicated pickleball courts and improvements to tennis and basketball courts, as well. Court improvements at Lewinsville Park include conversion of one tennis court into four dedicated pickleball courts, creation of one dual-use court with both tennis and pickleball lines, reconstruction of the surfacing, and fencing for the five remaining tennis courts and two basketball courts. Project costs were $650,000.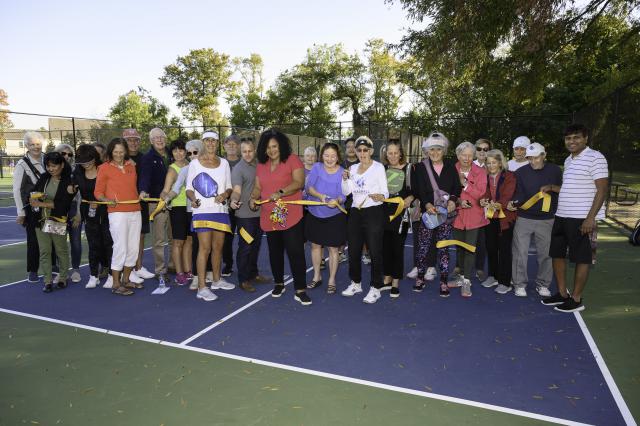 Pictured in the center is Jai Cole, Executive Director of the Park Authority. She is joined in the crowd of pickleball players and enthusiasts by other speakers, including Timothy Hackman, Dranesville District Representative, Fairfax County Park Authority Board; Helen White, Fairfax County Advocates for Pickleball; and Eileen Culligan, Pickleball advocate and organizer for the Dranesville District.
These improvements align with recommendations in the recently completed Pickleball Study and are an effort to introduce a greater variety of court sports to accommodate the diverse users across the county.
Interest in pickleball locally and countywide is growing quickly, and the introduction of pickleball at these locations will address the need for additional facilities for this emerging sport.
Media Note: Click on the picture above to enlarge and download. 
See all photos on the Lewinsville Ribbon-Cutting Flickr page.