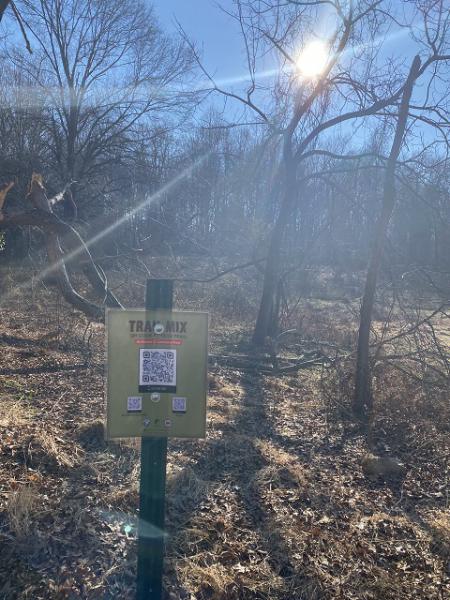 Trail mix isn't just for eating anymore.
The Park Authority has opened two QR code fitness trails for all ages and abilities. The Trail Mix QR Code Fitness Trail is now available at Ellanor C. Lawrence Park and Mason District Park. Head to either location and look for signs with QR codes offering exercise demonstrations. Stop at the markers in any order and choose from low-impact, medium and advanced exercise options to suit your taste. Check out the introduction video on our YouTube page.
The eight stations at each park are identical and feature a series of eight family-friendly fitness options that can be performed on the trail. When all the fitness "ingredients" are completed together, participants will receive a complete body workout.
"Trail Mix plays on the idea of fitness as a recipe for healthy living," explains Wellness Coordinator Elizabeth Ittner, who developed the program with Oak Marr Rec Center Fitness Director Hannah Hutton. "The theme of each station is a measurement of ingredients, just like you would see in a recipe -- dash, pinch and dip."
Trail Mix is now open at the following parks:
Ellanor C. Lawrence Park (5235 Walney Road, Chantilly, Virginia)
Mason District Park (6621 Columbia Pike, Annandale, Virginia)
Trail Mix users will need to use a smart device to scan the QR code on the trail signs (most devices can do this with the built-in camera) and access the video for that station. Be sure to move to the side when doing your activity so others can access the code. Stations can be done in any order; scan the INTRO or EXIT QR code at your first and last stations.
Trail Mix dates have been extended and will now remain open through May 31, 2022!
For more information including Trail Mix maps and details, please visit the Trail Mix QR Code Fitness Trails website. 
The Healthy Strides Trail Mix program is presented in partnership with the Fairfax County Park Foundation.