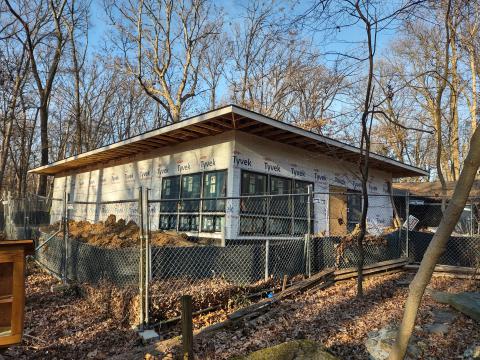 Hidden Oaks Nature Center will shut its doors for the next four months, but outdoor programming and adventures will continue. We apologize for the inconvenience, but sometimes you simply must wait for something wonderful to happen. That's the case at this Fairfax County Park Authority nature center that is shutting its doors temporarily.
With funding from the 2016 Park Bond, Hidden Oaks Nature Center in Annandale is getting bigger and better as a $1,627,000 renovation and expansion project gets underway. Hidden Oaks Nature Center will be closed from Feb. 14 through June 10, 2022. During this time, programming will be conducted outdoors or at other locations. The construction adds an additional classroom, kitchen area and interpretive space and renovates all restrooms to current Americans with Disabilities Act standards.
In the spring, a new pond will arrive in time for the wood frogs and toads to mate and lay their eggs. Outdoor public amenities in Annandale Community Park, including the trails, the Wing Wall exhibit, the woodland carved tree and a butterfly-themed playground, remain open dawn to dusk.
Hidden Oaks is located at 7701 Royce St., Annandale, Virginia. For more information, call 703-941-1065 or visit Hidden Oaks Nature Center.