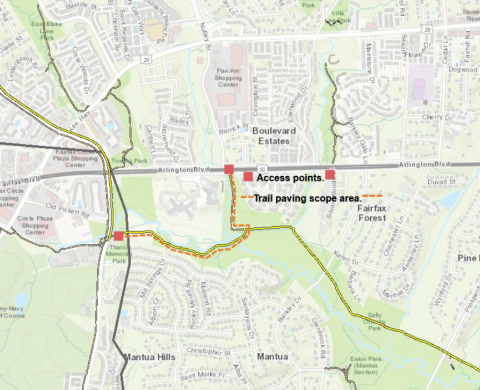 The Fairfax County Park Authority wants trail users to be aware that a trail maintenance and repair project is getting underway. Tibbs Paving will be making repairs and paving the stretch of the Gerry Connolly Cross County Trail from Route 50 to Thaiss Memorial Park (City of Fairfax) beginning March 14, 2022.
The anticipated project duration will be about two weeks running from March 14 through 25, 2022.
The trail will remain open to the public; however, there will be disruptions to trail users as Tibbs Paving makes their way through the repairs. Signage will be posted along the routes.
According to Project Manager Karen Devor, from Route 50, the entire trail section is in poor condition with numerous potholes and missing shoulder areas. From Thaiss Memorial Park to the new asphalt section will have new culverts installed and the poor sections replaced. Project costs are approximately $40,000.
Devor noted, "The planned asphalt overlay from Route 50 to new asphalt section that was completed last summer as part of the Sally Ormsby GCCCT improvements, will complete the trail renewal of the section of the GCCCT from Wakefield to Route 50."
For questions or concerns please contact Construction Maintenance Project Manager Karen Devor via email at Karen.Devor@fairfaxcounty.gov.