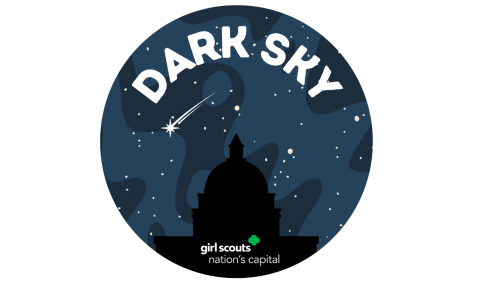 Be the first to earn the new Girl Scout Council of the Nation's Capital (GSCNC) official Dark Sky Patch. This patch will help you understand the importance of dark skies and how you can protect this resource. You will learn about light pollution, see the effect of light pollution yourself, learn how you can make changes to reduce light pollution, and share what you have learned with others.
This unique program is the first of its kind offered by the Fairfax County Park Authority and is sponsored by the Fairfax County Park Foundation. The creation of this program was inspired by an existing patch by the Girl Scouts of Central Texas. The Dark Sky Patch Program is the kickoff event to celebrate the start of International Dark Sky Awareness Week.
The Dark Sky Patch program costs $14 per scout and includes the patch upon program completion. The program is on Saturday, April 23, 2022, from 7 to 9 p.m. 
More information about International Dark Sky Awareness Week can be found at the Dark Sky website.
Riverbend Park is located at 8700 Potomac Hills Street, Great Falls, Virginia. For more information, call Jordan Libera at 703-759-9018 or email Jordan.libera@fairfaxcounty.gov.