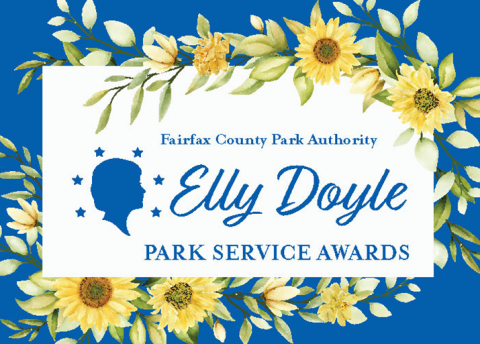 The Fairfax County Park Authority will honor 21 individual volunteers named 2022 Outstanding Volunteers and selected by their peers from across the park system. Volunteers are at the core of the agency's ability to provide excellent service to millions of visitors each year. Approximately 4,000 volunteers give of their time and talent annually and take on a multitude of tasks.
Here are the 2022 Outstanding Volunteers:
Ana Alatrash volunteering at Spring Hill Rec Center and has one year of service.
Dave Barnard serving at Cub Run, Lee, & Oak Marr Rec Centers over the past 4 ½ years as an Adapted Aquatics Assistant.
Ava Belmont serving as a Front Desk Associate at Mount Vernon Rec Center for five years.
William Doud serving as Play Manager at Twin Lakes Golf Course for four years.
Dan Dyke serves at Colvin Run Mill as Mill Docent, FoCRM president and Miller's Assistant and has volunteered for five years.
Elizabeth Etherton volunteering for five years at Frying Pan Farm Park as Garden Coordinator.
Alan Figgatt has been the Volunteer on Duty at Turner Farm Park Observatory for 19 years.
Gioia Forman has been a Special Events Coordinator at Green Spring Gardens for five years.
David Gorsline serving at Huntley Meadows Park for 29 years as Duck Nest Box Coordinator.
Janet Jaeger served at Lee District Rec Center for five years as Front Desk Associate.
Susan Jones volunteering at South Run Rec Center for 24 years as Front Desk Associate.
Brian Keith volunteering at Sully Historic Site for 3 1/2 years as Trail Volunteer, Teaching Docent and supporting Special Events.
Owen Krzos a Volunteer Naturalist at Hidden Pond for 2 1/2 years.
Kristine Lansing serving at Riverbend Park for five years as Bird Walk & Wildflower Monitor.
Jerry Lopynski serving as Store Volunteer at Frying Pan Farm Park for one year.
Mike Messman volunteers as Golf Course Maintenance at Greendale Golf Course for five years.
Kim Nguyen has been volunteering at Cub Run Rec Center for one year.
Brenda Pryor volunteers at Providence Rec Center as the Front Desk Volunteer for one year.
Beverley Rivera has served as IMA Site Leader at Lake Accotink Park for four years.
Alice Schipf served as Oak Marr Rec Center for two years as Landscaping Assistant.
Mary Beth Smith volunteers at Audrey Moore Rec Center as Front Desk Associate, where she has served for three years.
All volunteers will be feted at the virtual Elly Doyle Park Service Awards program in November. For more information, contact the Public Information Office at 703-324-8662.