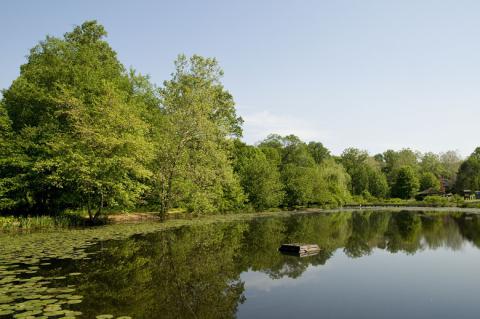 Fairfax Water recently awarded Ellanor C. Lawrence Park Friends a Water Supply and Protection Grant in the amount of $1,437 in support of ECLP's water quality monitoring program. The program will include Walney Pond, along with the streams and creeks passing through Ellanor C. Lawrence Park (ECLP). This grant will provide funding for on-site water quality monitoring to address potential pollution threats from nearby construction projects.
Ellanor C. Lawrence Park lies just north of Interstate 66 and is divided by Route 28 and Walney Road, all currently undergoing intensive construction. Much of the drainage from these areas flows into Big Rocky Run and then through the park. Several smaller streams originate in the park, while Walney Pond is fed mostly by surface water runoff. Rocky Run flows into Cub Run, which joins Bull Run and ends at the Occoquan Reservoir.
Due to the potential for pollution from these sources, regular water quality monitoring is necessary in order to provide information on the health and suitability of the water that's used by the flora and fauna in the park, as well as any impact to visitors of the park. It will also allow for an understanding of seasonal and long-term trends in water quality.
ECLP staff plan to check water quality monthly, with sampling performed by students or volunteers under the supervision of park personnel. This monitoring will help detect areas of pollution growth for further investigation and provide hands-on environmental education for volunteers and students who visit the Sully Woodlands Stewardship Education Center.
"With the support of the Fairfax Water grant, Ellanor C. Lawrence Park will be able to monitor the health of the streams and pond in the park and ensure that they remain good habitats for our local plants and animals," said ECLP Natural Resource Manager Gabby Hrycyshyn.
Ellanor C. Lawrence Park Friends is a 501(c)(3) organization formed in 2019 to support Ellanor C. Lawrence Park. Find out more on the Ellanor C. Lawrence Park Friends website.
Ellanor C. Lawrence Park is located at 5040 Walney Road, Chantilly, Virginia. For more information, visit Ellanor C. Lawrence Park or call 703-631-0013.