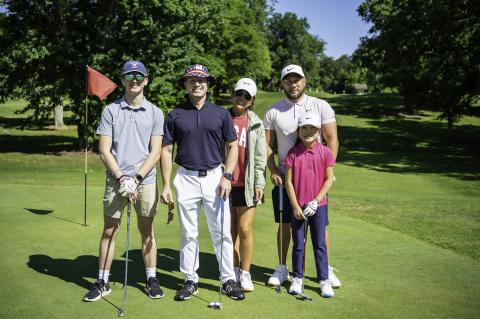 August is National Golf Month, a celebration that encourages golfers of all levels and experience to get out their clubs and tee it up at one of the seven public golf courses located throughout Fairfax County. Golfers can enjoy four driving ranges, free short-game and practice greens, and casual and competitive golfing opportunities.
Kids play free! Take the whole family out for a round in August at Burke Lake, Jefferson, Oak Marr and Pinecrest. Parents pay for their round and get one free round for a child age 5 to 17.
Up your game with PGA, LPGA and USGTF professionals. Registration for small group classes for all ages at Burke Lake and Pinecrest begins on Aug. 2, 2022. Private lessons are available at Burke Lake, Greendale, Laurel Hill, Oak Marr, Pinecrest and Twin Lakes.
You're a champion! Compete in club tournaments at Greendale on Aug. 9, 2022, and Jefferson on Aug. 20, 2022. Juniors can compete in junior tournaments at Pinecrest on Aug. 5, 2022, and Burke Lake on Aug. 12, 2022.
Cheers! Adults 21+ can celebrate at Pinecrest on Aug. 20, 2022, at the Caboose Brewing Tap Takeover. The takeover will include beer-tasting tickets, indoor golf games and prizes. Connect with old and new friends during Nine and Wine Events at Twin Lakes on Aug. 15, 2022 and Pinecrest on Aug. 18, 2022.
To learn more about the Park Authority's outstanding municipal golf courses, visit the Golf website.