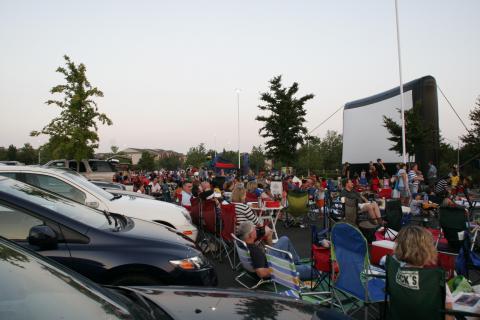 What's better than a drive-in movie? A movie and a children's performance! The Fairfax County Park Authority's Starlight Drive-In Cinema offers family-friendly movies every Saturday night in August at 5860 Trinity Parkway in Centreville, Virginia.
Gates open at 6 p.m., with a children's show on stage at 7 p.m. The movies begin at dark. Watch from your car and listen on your FM radio, or bring coolers, blankets and lawn chairs to enjoy a picnic dinner or snacks before or during the movie.
The lineup of PG-rated movies includes:
Aug. 6, 2022 - Pre-movie show: The Great Zucchini (comedy, magic) Movie: "Luca" (2021) The 13-year-old boy Luca and his friend Alberto find adventure in a seaside town on the Italian Riviera but will the townspeople find out about their little secret?
Aug. 13, 2022 - Pre-movie show: Marsha and the Positrons (children's songs) Movie: "Encanto" (2021). Deep in the Colombian mountains, each member of the Madrigal family can perform magic. Yet 15-year-old Mirabel does not seem to possess any unusual abilities and struggles to reconcile her place while searching for who she truly is.
Aug. 20, 2022 - Pre-movie show: Rocknoceros (children's songs) Movie: "Sing 2" (2021). Theater owner Buster Moon sets his sights on producing a brand-new musical and needs to find Clay Calloway, a legendary but elusive rock singer, to perform with them.
Aug. 27, 2022 - Pre-movie show: The Uncle Devin Show (children's songs) Movie: "The Mitchells vs. The Machines" (2021). After Katie Mitchell is accepted to the university, her father decides that the family will drive her to school and have an adventure. However, their plans are ruined when two malfunctioning robots try to save the world.
Concerts are held outdoors and may be canceled due to inclement weather. Call 703-324-SHOW (7469) for inclement weather updates. Cancellations are recorded an hour before showtime. For details regarding each series, go to the Summer Entertainment Series website.