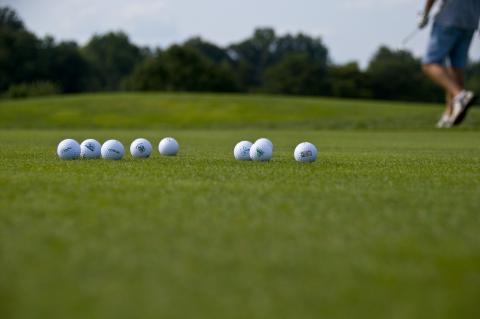 During National Golf Month, join us Saturday, Aug. 6, 2022, for a two-hour Golf Fit workshop taught by Laurie Strickland, golf conditioning specialist and CPT.
This workshop is appropriate for golfers as young as 13 and will be held at South Run Rec Center or virtually from the comfort of your home.
From the beginner to competitive golfer, you will learn tips on how to make your golf game more enjoyable and ways to keep playing for many years. You will view an informative and educational golf fit presentation, do some stretching and strengthening exercises and take a walk through our rec center weight room for additional ways to improve your fitness. The workshop closes with a Q&A session.
Playing the game of golf can be hard on the body and can take a toll after many years. Learn ways to prevent injury, reduce low back pain and rotator cuff injury, and increase ball distance and accuracy. Learn why it is important to get and stay fit, eat well and live a healthy lifestyle, which translates into prolonging the ability to play and complete a round of golf, while feeling refreshed and ready to take on the rest of the day.
Please bring a 7-iron golf club, mat, water bottle and towel or have these items handy. The cost for the workshop is $33 per person.
South Run Rec Center is located at 7550 Reservation Drive, Springfield Virginia. For more information, visit South Run Rec Center or call 703-866-0566.