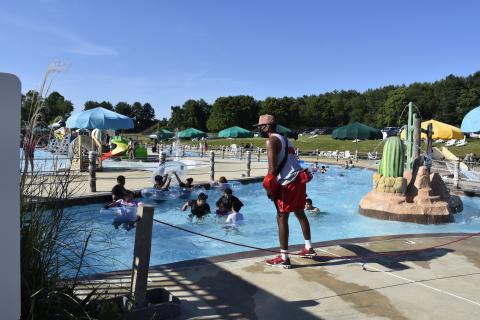 It's going to be weekends only at the Water Mine a bit earlier this year. The Fairfax County Park Authority will temporarily close the popular Water Mine Family Swimmin' Hole next week due to lifeguard and other operations staff shortages at the site. The closure will begin on Monday, Aug. 15, 2022, with reopening set for Saturday, Aug. 20, 2022. The five-day closure reflects the continuing staff recruitment challenges faced by the agency. Annually, FCPA recruits more than 600 summertime hires for work at summer camps, indoor and outdoor pools and water features, and a host of other park sites.
With safety in mind, a shortage of lifeguards for the remainder of the summer season makes it impossible to safely guard this FCPA waterpark every day. Thus, a return to weekends only operations, one week before the usual changeover date, is the prudent thing to do.
"We understand this decision is disappointing. However, it's safety, safety, safety first," said Park Services Division Director Cindy Walsh, adding, "Our staff has done a great job all season long. Many guards are going back to school earlier or going on vacation, leaving us with far fewer guards than we've had in the past at this point in the season."
The Water Mine is located at 1400 Lake Fairfax Drive in Reston. For more information regarding the Water Mine, visit the Water Mine website or call 703-246-5929.