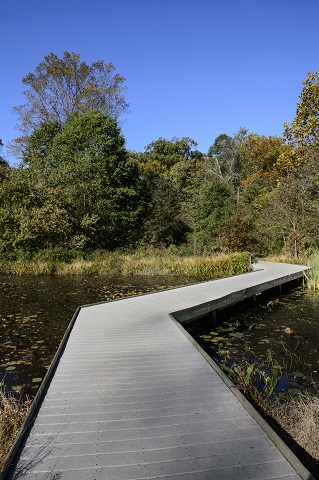 Walney Pond will be drawn down partially between Sept. 12 and Sept. 16, 2022. The drop in water level will accommodate the installation of a dry fire hydrant at the pond. Little to no impact is anticipated to wildlife.
This hydrant is required by the Fire Marshall to supply the new Stewardship Education Building currently under construction. This hydrant doesn't contain water like the one in your neighborhood, but instead will draw from the pond if needed. The water in the pond will need to be drawn down about 2 feet to allow for the installation of the pipe feeding the hydrant. The pond is 10 feet deep in the center, so aquatic animals will still have water. A previous draw down that went deeper did not cause major problems for the pond's wildlife or plants.
Several maintenance projects will take place while the water is down. These include repairs to the boardwalk, installation of metal railings on one platform, and removal of dry vegetation to avoid oxygen loss when the pond refills with water.
For more information, call Ellanor. C. Lawrence Park at 703-631-0013. Walney Pond is located in the 5300 block of Walney Road in Centreville.
Ellanor C. Lawrence Park is located at 5040 Walney Road, Chantilly, Virginia. For more information, visit Ellanor C. Lawrence Park or call 703-631-0013.