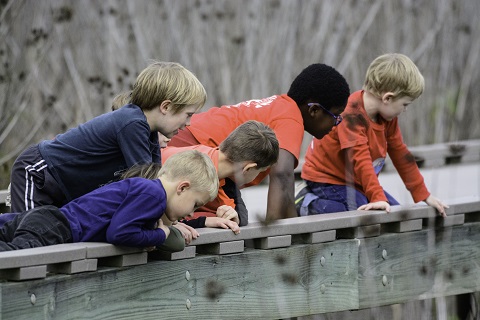 Huntley Meadows Park is looking for some very special volunteers. These are individuals who understand the importance of sharing the natural world and all it offers with children. These are people looking to spark wonder and curiosity in school-age children.
Every year, lots of local elementary schools come to Huntley Meadows on field trips. During their visit, children learn all about wetlands, as well as the animals, plants and the history of this important habitat. The park needs help leading these school children on walks around the trails.
Volunteers should have a strong interest in nature and history, as well as an interest in the stewardship of the county's natural and cultural resources. Ability and desire to communicate effectively with elementary and middle school age children are essential. Experience in working with groups of children is helpful, but not necessary. Site orientation and on-the-job training are offered. Upon completion of training, the volunteer will be asked to make a one-year commitment.
This is a weekday opportunity. School programs are scheduled in the mornings between 9 a.m. until 12:30 p.m., and in the afternoons between 1 p.m. until 3:30 p.m. Volunteers should be able to lead a minimum of five school field trip programs per season. The fall season runs from mid-September to the end of November. The spring season runs from mid-March to the end of May.
Volunteers must be 21 years old. If you think you have the talent and the passion for this volunteer service, please reach out to Katherine Ochs at Katherine.Ochs@farfaxcounty.gov; or call 703-768-2525.
Huntley Meadows Park is located at 3701 Lockheed Blvd. in Alexandria, Virginia. For more information, visit Huntley Meadows Park or call 703-768-2525.