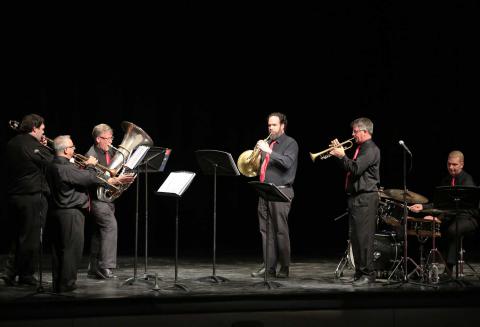 The Fairfax County Park Authority offers another weekend filled with great performances in the parks. As kids return to school and the seasons change, there are still opportunities to see amazing performers in a park near you.
Coming up on Saturday, Aug. 27, 2022, enjoy Brass 5, which offers sounds from some of America's best music from the best artists of the big band era. Sway and swing to the sounds of Miller, Ellington, Dorsey, Basie and more.
Come to the concert at Arrowbrook Centre Park located at 2351 Field Point Road in Herndon, Virginia. There is no admission charge, and the music runs from 7:30 p.m. until 9 p.m. You can also indulge in wine tastings and sales by the Winery at Bull Run and Paradise Springs Winery.
Maybe the kids are in the mood for a drive-in movie, as well as live entertainment pre-show? On Saturday, Aug. 27, 2022, you can see "The Mitchells vs. The Machines," an animated PG-rated favorite. After Katie Mitchell is accepted to the university of her dreams, her father, Rick, decides that it will only be fitting for the whole family to drive her to school and have an adventure. However, their plans are ruined when technology—phones, appliances, and personal robots, among others—stages a revolution against humanity. They now find themselves with two malfunctioning robots, working to save the world from destruction. Movie starts when it gets dark.
You can start with a pre-movie entertainment at 7 p.m., featuring The Uncle Devin Show. Uncle Devin is an award-winning drummer and percussionist who specializes in "family funk." Known as "The Children's Drumcussionist," he is a national leader in the family-music industry. He is co-owner of The Uncle Devin Show, an interactive musical experience for children that uses percussion instruments to cultivate their minds - a dynamic cross between D.C.'s trouble funk and schoolhouse rock. The entire family will experience the rhythm of Uncle Devin's infectious blend of jazz and funk on a magical journey through the land of percussion.
Come to Trinity Centre at 5860 Trinity Parkway, Centreville, Virginia. There is no admission charge.
These community performances are brought to you by the Fairfax County Park Authority, in partnership with the supporters of the Summer Entertainment Series, including generous contributions through the Fairfax County Park Foundation from local businesses, corporations and individual donors.
Concerts are held outdoors and may be canceled due to inclement weather. Call 703-324-SHOW (7469) for inclement weather updates. Cancellations are recorded an hour before showtime. For details regarding each series, visit the Summer Entertainment Series website.