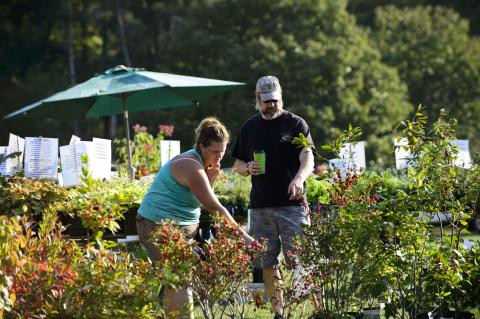 On Saturday, Sept. 17, 2022, join us from 9 a.m. to 3 p.m. for the annual Family Fall Festival and Plant Sale at Green Spring Gardens!
Enjoy activities for the entire family, including gardening demonstrations for adults and fun activities for children. There will also be a silent auction, a book sale and a bake sale. Vendors will be selling a variety of plants and other items, and there will be a tool-sharpening vendor on site, so be sure to bring your dull tools (shears, ax, pruners, shovel, spade, edger, etc.). Make sure to set aside some time to visit the hummingbird exhibit at the Historic House and the photography contest exhibit at the Horticulture Center! The Garden Gate Plant Shop will also be open.
Here are some of the things you can look forward to:
Shopping: Vendors will be selling a large variety of plants and other items.
Silent Auction: The not-to-be-missed FROGS Silent Auction will be set up in the Horticultural Center. The silent auction is an annual fall fundraiser with generous gift-card donations from local businesses and treasures from fellow FROGS. You are sure to find a unique treasure this year!
Bake Sale: The bake sale will carry everyone's favorite baked goods, including cheesecake, brownies, chocolate chip cookies, specialty breads, pies, cakes, muffins and more.
Book Sale: The book sale will include many great gardening books, magazines and even some music CDs to enhance your garden tasks. With most of the books priced at $1, you are sure to go home with many wonderful books to help you create and maintain a beautiful garden.
Presentations and Demonstrations: The Green Spring Extension Master Gardeners (EMG) will offer presentations and demonstrations continuously from 9 a.m. to 3 p.m. for all ages. Highlights include composting and pruning, as well as tours of the Edible and Children's Discovery Gardens. Make sure to also look for the fun hands-on activities for kids!
Admission to the festival and plant sale is free. This program is sponsored by the Fairfax County Park Authority and the Friends of Green Spring (FROGS). For more information, call 703-642-5173 or visit the FROGS webpage.
Green Spring Gardens is located at 4603 Green Spring Road, Alexandria, Virginia. For more information, visit Green Spring Gardens or call 703-642-5173.