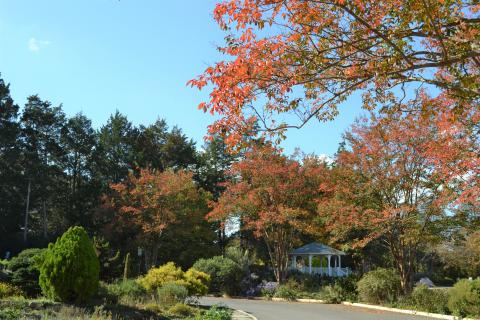 Are you looking for a fun creative outlet for yourself or your family this fall? Consider signing up for a fine arts class at Green Spring Gardens in October.
On Thursday, Oct. 6, 2022, participate in the Floral Design Workshop - Fantastic Fall. It's a chance to enjoy autumn's rich colors and textures by bringing them into your home. With the help of certified floral designer Betty Ann Galway, you will create a unique floral design that celebrates how fantastic fall can be. The program is appropriate for those 16 and older. It runs from 1 to 2:30 p.m. and the cost is $42 per person (please register for both the class and the $35 supply fee). Bring disinfected shears and a short box or container that will help you transport your arrangement home.
On Saturday, Oct. 22, from 9:30 a.m. to 3:30 p.m., join artist Dawn Flores as she teaches you about paper, paint, drawing and transfer techniques used in botanical art. Appropriate for the beginner or advanced student, this Watercolor Workshop - Botanicals teaches watercolor techniques through exercises that help you understand color and composition and improve brush control. Basic drawing skills are helpful for drawing the plant specimen from which to paint an elegant botanical portrait. A supply list will be emailed before class. Bring a lunch. The cost is $102 per person, and the program is appropriate for those 16 and older.
Register for Watercolor Workshop
If you're looking for a fun activity for the whole family, sign up for the Family Fun - Pumpkin Painting program, which will take place on Saturday, Oct. 29, 2022 from 10 to 11 a.m. Pumpkins have a unique life cycle and contribute to their ecosystem; come learn all about it and paint one to take home. Bring your own pumpkin or use one of the freshly harvested ones grown at Green Spring. All attendees, including parents, must be registered for the program, which is appropriate for those 5 and older. The cost is $10 per person.
Green Spring Gardens is located at 4603 Green Spring Road in Alexandria, Virginia. For more information, visit Green Spring Gardens or call 703-642-5173.