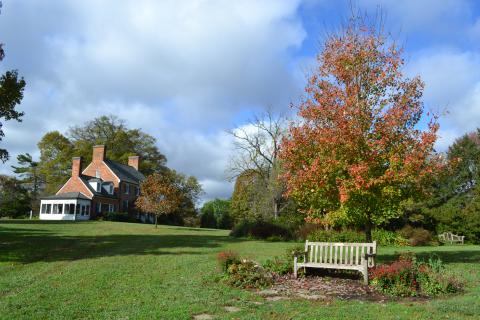 Are you spellbound by the lovely trees you see at Green Spring Gardens? Learn about them and about how you can add more fall beauty to your own garden at one of these upcoming programs.
On Friday, Oct. 14, 2022, Extension Master Gardeners will help you identify native trees and provide tips for growing and taking care of them in the Garden Talk on Native Trees of Green Spring. If you have been wanting to incorporate more native trees into your garden, this program is for you! The program runs from 1:30 to 2:30 p.m. and is appropriate for adults. The cost is $12 per person.
Register for Garden Talk - Native Trees
On Saturday, Oct. 22, 2022, there are two great programs to choose from.
Start the day with a wonderful tour! From 10 until 11:30 a.m., join a special "Grand Tour" of Green Spring led by Extension Master Gardener docents. During this Garden Tour - Green Spring Up and Down, you will view some upper demonstration gardens, then take the garden path less traveled to explore the naturalistic lower garden areas: the Virginia Native Plant Garden, woodland stream valley and ponds. The tour involves a steep slope with loose gravel, so wear good shoes. The cost is $15 per person, and this program is appropriate for adults.
Or, from 10:30 to 11:30 a.m., join the Garden Talk: Create Stunning Beauty for Fall, during which Extension Master Gardeners will show you a variety of perennials, shrubs and trees in rich gold, burnt orange, brilliant burgundy and vibrant red to add glorious fall colors to your existing plantings with remarkable results. The cost is $12 per person and the program is appropriate for adults.
Register for Garden Talk - Fall
Green Spring Gardens is located at 4603 Green Spring Road in Alexandria, Virginia. For more information, visit Green Spring Gardens or call 703-642-5173.