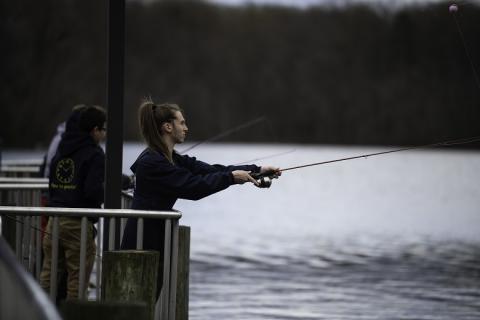 As water temperatures slowly start to drop this fall, fishing is heating up again. Fall makes for great fishing, as a lot of species, such as bass, start to move back up in shallow waters and feed on everything in sight in order to put on some weight for the winter. Fairfax County Park Authority staff can help you find where the fish are biting with fishing reports.
You can anticipate these informative reports and other articles throughout the fishing season.
You can fish in several bodies of water in the parks, including in Burke Lake and Lake Accotink. The Park Authority also offers classes throughout the year that can introduce you and your family to the lifelong joy of fishing or can help you improve your angling skills.
The Park Authority's fishing website will have not just fishing reports, but also articles with information on the lakes and ponds where you can fish in Fairfax County, where to pick your spot and how to submit your catch to our photo gallery.
Starting Oct. 8, 2022, Burke Lake Park will pilot a free rod rental program. It's a cooperation between the Virginia Department of Wildlife Resources and the Park Authority. It is made possible with a grant from the Recreation Boating and Fishing Foundation. The program will be expanded in 2023 to Lake Accotink Park, Riverbend Park and Lake Fairfax Park. The goal of the program is for the community to have an equal opportunity to enjoy the sport of fishing.
The Park Authority follows the rules and regulations of the VDWR, which you can find on its website. Please call the park where you plan on fishing to see if there are any additional rules or regulations.
So, grab a rod, some baits, and get on the water.
If you have any specific questions about fishing in the area or fishing in general, contact FCPA Fishing Coordinator Dan Grulke at dan.grulke@fairfaxcounty.gov.