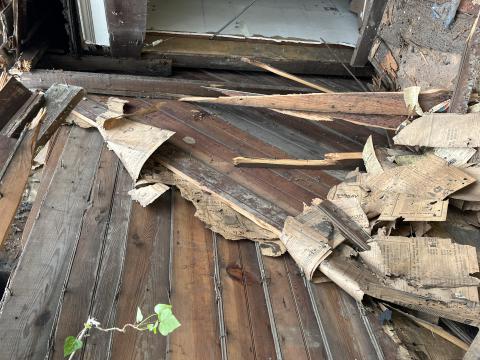 You never know what lies behind the walls in old houses. Archaeologists have a lot in common with detectives, always seeking new clues that, with research, can provide context when interpreting historic events or places.
This month's artiFACTs focuses on newspapers found in an old, abandoned house in Fairfax County. These newspapers were lining the space between the exterior and interior walls, providing rudimentary insulation. They also provided important information that archeologists used to establish a timeline that would reveal details about the dwelling and the people who lived there.
Find out more by visiting the artiFACTS website.

Each month, artiFACTS highlights an item from the Park Authority's vast collection of historic treasures. The collection includes more than 5,000 objects, such as quilts, chairs, baskets, machines, and clothing; thousands of archival items, such as photographs, letters, maps and other documents; and upward of 3 million artifacts that include archaeological finds, such as spear points and pottery. From glass fragments to clothing to furniture, the items tell the story of our region's past.
For information about the Park Authority's Museum Collections, contact Assistant Collections Manager Heather Hembrey at 703-534-3881.