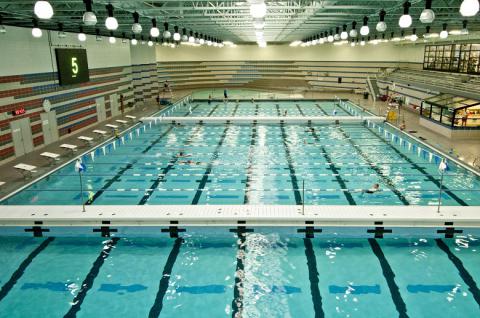 Fairfax County Park Authority Rec Centers will welcome back FCPS High School swim and dive teams starting Nov. 7, 2022. This partnership between the Park Authority and area high schools dates back to the opening of Audrey Moore Rec Center at Wakefield Park in 1977.
Each year, between November and February, rec centers host high school swim and dive teams. This year, there are 23 teams ready for training and competition. Physical activity and teamwork have long been recognized as vital parts of the high school experience, and swimming can involve more students with less risk of serious injury than any other sport. The Park Authority is proud to serve Fairfax County's high school teams. This collaboration ensures these life-enhancing pool and aquatic programs are widely available throughout the year.
This year, all nine FCPA Rec Center pools will close from 3:30 p.m. to 5:45 p.m. Monday through Thursday, with Oak Marr Rec Center pool closed on Fridays from 3:30 to 5:45 p.m., as well. Starting Dec. 2, 2022, rec center pools will also be closed on Friday evenings at 4:30 p.m. to allow for high school swim and dive meets to take place.
Be sure to check the pool calendar of your favorite rec center by visiting the Rec Center Schedules webpage for the most up-to-date pool availability.