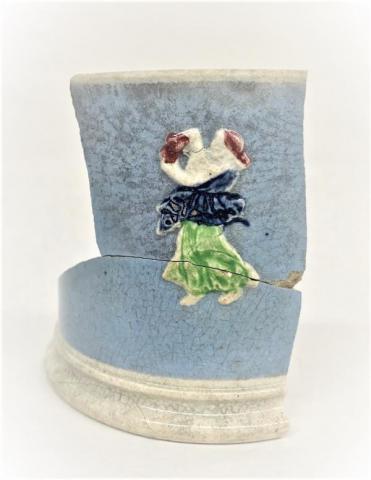 It's amazing how much a small sherd of pottery can reveal. In the November edition of artiFACTS, find out the story behind mended sherds of pearlware with a colorfully painted female figure found at a homestead in Lorton, Virginia. The mug is from England, but the details it reveals are strictly local.
In fact, someone who occupied the farmstead in the early 19th century likely drank from the mug. It may have been the woman or her five children who farmed the land. The landowner became a widow and was a very determined woman, who tended the children and ran the household and the farm for more than three decades. Her name was Fanny B.B. Wilson.
Each month, artiFACTS highlights an item from the Park Authority's vast collection of historic treasures. The collection includes more than 5,000 objects, such as quilts, chairs, baskets, machines and clothing; thousands of archival items, such as photographs, letters, maps and other documents; and millions of artifacts that include archaeological finds, such as spear points and pottery. From glass fragments, to clothing, to furniture, the items tell the story of our region's past.
For more information about the Park Authority's Archaeology and Museum Collections, contact Archaeology and Collections Branch Assistant Collections Manager Heather Hembrey at Heather.Hembrey@fairfaxcounty.gov.