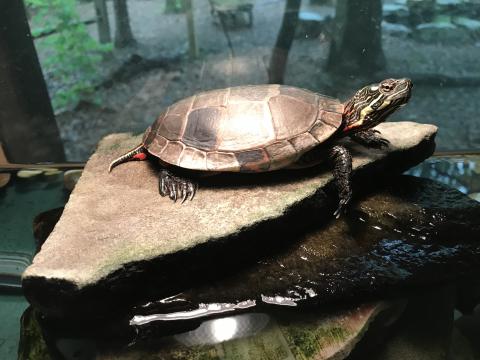 There is always something interesting to do at Hidden Oaks Nature Center in Annandale. This weekend, you can capture autumn's seeds and berries in color and form. And later in November little ones may want to learn about turtles.
Artist and naturalist Avery Gunther leads adults with tips and techniques on how to identify and draw beautiful botanical finds along a woodland walk at Hidden Oaks. Use watercolor, colored pencil and/or ink markers to depict the glorious hues and shapes.
Participants ages 16 years and older are welcome to register for Drawing Nuts, Seeds, Pods and Berries on Saturday, Nov. 19, 2022, from 9:30 a.m. until noon. The fee is $25 per person.
Register for Drawing Nuts, Seeds, Pods and Berries
Turtles are terrific whether you find them in the water or on land. Whereas Fairfax County has only one native turtle that lives on land, there are several that paddle in ponds and streams. Preschoolers will meet several native species in Nature Nook at Hidden Oaks on Sunday, Nov. 27, 2022.
After a short hike, enjoy a story and an activity focusing on everyone's favorite local reptiles. Register children ages 3 to 5 years old for Nature Nook-Terrific Turtles for one of two sessions, either from 2:30 to 3:30 p.m. or from 3:45 to 4:45 p.m. The fee is $10 per child. One adult may attend per child.
Hidden Oaks Nature Center is at 7701 Royce St., Annandale, Virginia. For information, call 703-941-1065 or go visit Hidden Oaks Nature Center.