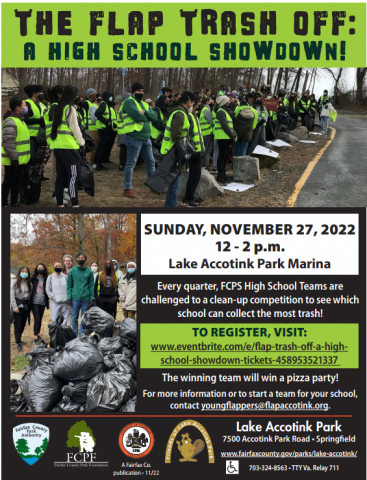 If cleaning up Lake Accotink Park, while also competing with other high schools to collect the most trash sounds fun, it's time to sign up for The Flap Trash Off, a high school showdown! Join the competition on Sunday, Nov. 27, 2022, from noon to 2 p.m. Meet at Lake Accotink Park Marina.
Every quarter, Fairfax County Public High School teams are challenged to a cleanup competition to see which school can collect the most trash. The winning team wins a pizza party. Not only is this lots of fun, but it also helps the environment and maintains one of Fairfax County Park Authority's most beautiful lakefront parks.
For more information or to start a team for your school, contact youngflappers@flapaccotink.org. 
This program is supported by the Fairfax County Park Authority, in coordination with the Friends of Lake Accotink Park and the Fairfax County Park Foundation.
Lake Accotink Park is located at 7500 Accotink Park Road, Springfield, Virginia. For more information, visit Lake Accotink Park or call 703-569-3464.