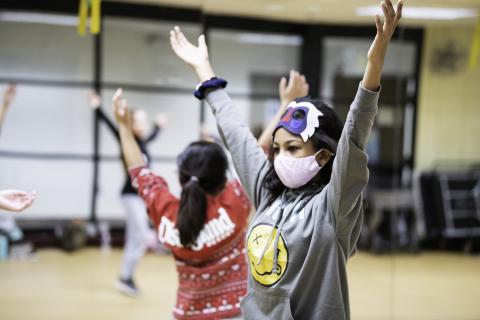 Registration for summer camps begins Jan. 11, 2022 and with limited spaces available in our facilities and over 95% of in-person camps filling up last year, register early at the Camps website to reserve your child's favorite camp for next summer.
Consistently voted as one of Northern Virginia Magazine's Best Summer Camps, the Fairfax County Park Authority offers more than 1,000 summer day camp options at over 50 locations including Rec Centers, nature centers, historic sites, lakefront parks, golf courses and schools. Virtual camps are available for those who prefer or cannot attend in person. These camps feature plenty of fun, friendship and provide a safe summer experience for children ages 3 to 16.
From traditional crafts and games to high-tech and high adventure, the Park Authority has something for everyone. Many camps offer swimming at Rec Centers each day. Choose from skill-development camps including British and International soccer, basketball, football, baseball, gymnastics, cheerleading, archery or lacrosse. Enjoy the outdoors? Then check out our outdoor adventures, boating, fishing and biking camps. Explore new interests with specialty camps, such as chess and cooking or STEM programs that stimulate learning and enhance critical thinking.

New, exciting camps are available in 2022 and include: Spy Science, LEGO SPIKE Robotics, Treasure Hunt Art, Excavation Investigation, Women in the Woods, Jam-ilton Plus, Ballet & Butterflies, Pop Star Dance, Mudskippers Pottery, Fantastic Fossils, All About Science, ROBLOX Makers & Pokémon Masters, Artful Cupcakes, Master Chef, Pickleball and several new virtual camps.
Check out the Camps website for complete listing of camps or browse through the FCPA Spring and Summer Camp 2022 Guide. All the summer camps plus classes for kids and adults, special events and much more can be found in the spring edition of Parktakes Magazine coming in early February. Early-bird registrants for summer camps by May 10 and for Spring Break camps by Feb. 15, 2022 receive $8 off each camp session.
You can register with confidence knowing that you can receive a full refund for any camp should camp offerings change due to COVID-19 restrictions. For more information, call the registration hotline at 703-222-4664 Monday through Friday, 9 a.m. to 4 p.m.