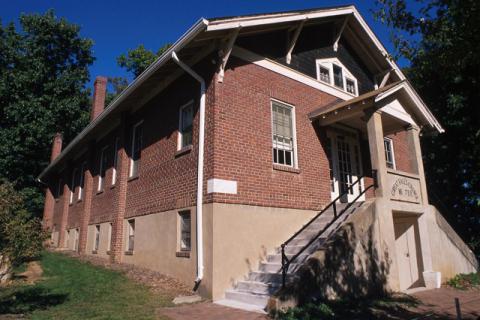 The Fairfax County Park Authority and the Great Falls Grange Foundation will ratify an agreement, which permits the Great Falls Grange Foundation to operate and maintain the historic property. The Grange will serve as a community meeting place, a potential location for classes and planned activities, and a venue for public and private special events. A formal signing of this agreement is slated for Saturday, March 12, 2022, at 1 p.m. on site. Members of the community are welcome to attend this event.
Listed on the National Register of Historic Places, this public assembly hall was built in 1929, a product of the Grange Movement, which swept rural America shortly after the Civil War. The Grange was built as a symbol of commitment to community involvement and progress and has been a meeting and special event site throughout its history. This building, a historic schoolhouse and adjacent park are located at 9818 Georgetown Pike in Great Falls, Virginia.
Dranesville District Supervisor John W. Foust remembered how it all began, stating, "About 10 years ago, Jorge Adeler, a prominent local businessman and community leader, asked me to help him and others make the Grange a place where Great Falls residents could gather and conduct the types of activities that would support a sense of community and contribute to the quality of life for all residents. Since then, Jorge and many other local leaders have worked patiently to address and resolve several obstacles that were encountered. It is a tribute to their passion for their community that, with the wonderful support of the Park Authority, they have now achieved their goal. I am very pleased for them and I am certain that the Grange Foundation will be an excellent steward of these awesome historic properties."
Park Authority Deputy Director Aimee Vosper noted this is the culmination of a long-awaited venture with community members and those who see the potential for this remarkable facility. "We are pleased to see this renewed interest in the Grange. With the assistance of Dranesville District Supervisor John Foust, who funded needed ADA improvements, and the determination of the community to establish this as a center of the Great Falls community, we can make this transition a reality," Vosper said.
Jorge Adeler, co-president of the Great Falls Grange Foundation, commented, "After 10 years of work, Great Falls will have a gathering place in the heart of Great Falls for our community. This effort has truly been for the 'Love of Great Falls.' I'm grateful for the partnership of Supervisor John Foust, Fairfax County Park Authority, the dedicated Great Falls Grange Foundation committee, and the support of engaged Great Falls community groups."
A recent public meeting spelled out the details of the public-private partnership. Great Falls Grange Foundation members, and representatives from the Great Falls Citizens Association, Optimists Club and Rotary Club, briefed the community on evolving plans. Plans include utilization of proceeds for internal building improvements and new landscaping. The public-private partnership between FCPA and GFGF is seen as a potential prototype for countywide application that will eventually be a self-supporting community center for Great Falls.
For more information regarding this event, contact the Park Authority Public Information Office at 703-324-8662. For information about this site, visit the Great Falls Grange website. For more information, about the Great Falls Grange Foundation, visit the Great Falls Grange Foundation website.