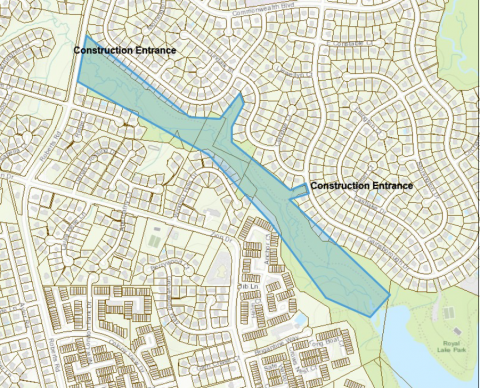 Stream restoration within Royal Lake Park is set to begin. The Fairfax County Department of Public Works and Environmental Services has contracted with Meadville Land Service Inc. for the work that will start later this month. More information regarding this project can be found at the Rabbit Branch Tributary Restoration Project at Collingham Drive website.
The project will restore approximately 4,800 linear feet of combined natural and outfall drainage channels, which are part of the Pohick Creek Watershed. The existing parkland trails within the project boundaries will be closed for the duration of the project to ensure public and worker safety. Active construction is anticipated to be completed by winter 2023.
During this anticipated closure, trail users and park visitors are urged to utilize the non-impacted portion of the trail network within Royal Lake Park or visit the trails within Woodglen Lake Park as an alternative.
Additionally, a complete listing of parks and trails nearby and across the county can always be found using the Park Locator Application.
For further information, please contact Project Manager Meghan Fellows, Department of Public Works and Environmental Services, Stormwater Planning Division, at meghan.fellows@fairfaxcounty.gov; or call 703-324-5685, TTY 711.