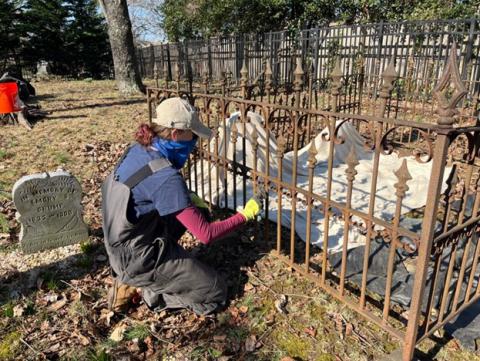 The Fairfax County Archaeology and Collections Branch (ACB) is launching a multi-year initiative to survey and record all historical cemeteries within the county. During its 40-year history the ACB has used a variety of methods to map cemeteries in the county, including historical documents such as deeds, wills and maps, oral histories, surveys done by genealogists, as well as a large survey conducted by Fairfax County Public Library in 1994.
With Geographic Information Systems (GIS), it is now possible to record accurate location information more easily than ever. Furthermore, given the advances in technologies, such as remote sensing, it is often possible to see and map cemeteries even in areas that are overgrown or difficult to find. Finally, many historical records, such as deeds, maps, newspapers and wills, are readily available and indexed online. This culmination of technological advances has given archaeologists the perfect opportunity to re-survey the known cemeteries in Fairfax County, report on current conditions, provide headstone transcription where possible, and make this information available to the public.
The goal of this project is to create and distribute a public-facing cemetery map that includes updated survey information, as well as a manual for the preservation and care of historic cemeteries. Archaeologists will continue to work with a wide range of stakeholders including cemetery owners, descendants of those buried in historical cemeteries, historical societies, homeowner's associations, faith communities and other interested groups.
Historical cemeteries are some of Fairfax County's most important and unique cultural resources. They are reminders of settlement patterns, demographic trends, historic events, religious beliefs and societal norms. They house folk art spanning from the simple to the inspirational in the form of monuments and markers. However, over time, many cemeteries, especially small family burial plots and the burials of people belonging to marginalized groups, such as enslaved and free Black residents, Native Americans, the imprisoned and the poor have become particularly difficult to research and locate. These "lost" cemeteries represent important avenues of scholarship, as well as physical reminders of the whole of our history. They are of specific interest to the archaeologists working on this survey.
For more information, please see Cemetery Survey website.