NOTICE: The ribbon-cutting ceremony has been postponed due to anticipated inclement weather. The event will be rescheduled soon.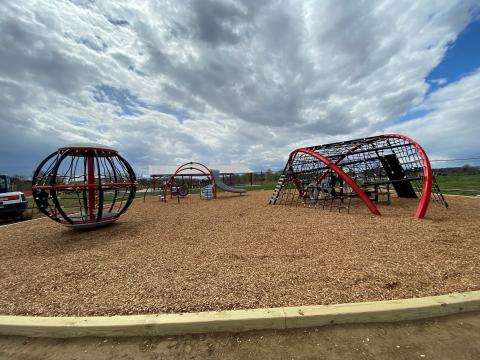 A new playground will open at Laurel Hill, and the public is invited to attend the opening celebration. The Fairfax County Park Authority and Mount Vernon District Supervisor Dan Storck invite you to opening ceremonies for the new playground at Laurel Hill Central Green on Saturday, May 7, 2022 at 2 p.m. Please join us for brief remarks from local officials followed by the official ribbon-cutting and refreshments. The park is located at 8780 Lorton Road in Lorton, Virginia.
The playground is appropriate for children ages 2 to 12 years old. Features include a large spinning Americans with Disabilities Act accessible play structure, small tot play composite and a large unique play structure for children 5 to 12 years old. Project costs were estimated at $240,000.
The entire project scope, approved by the Park Authority Board on Jan. 23, 2019, included an asphalt loop road with parking, three large picnic shelters, an accessible asphalt trail, meadow conservation area and related site work. These amenities have already been completed and are in use by the public.
For more information, call the Public Information Office at 703-475-2267.