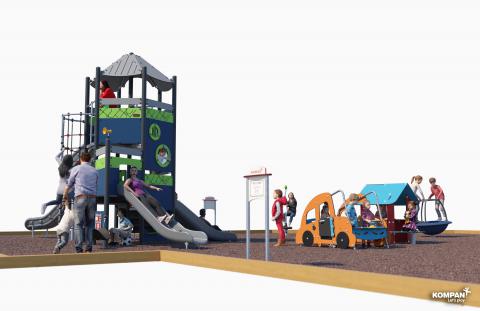 Work is about to begin on a playground replacement project at Woodley Hills Park located at 8710 Old Mount Vernon Road in Mount Vernon. Woodley Hills Park contains the playground, trails, open grassy fields for play and several conservation areas.
This $150,000 project is part of the Fairfax County Park Authority's playground replacement program and utilizes voter-approved 2020 Park Bond funds. The project scope includes all site-related work to remove and install the new playground, as well as updating trail connections and the parking lot to meet current Americans with Disabilities Act standards.
The Fairfax County Park Authority will begin the installation of a new playground and removal of the existing playground the week of April 25, 2022. Construction access to the site will be from Old Mount Vernon Road. It is anticipated that the playground replacement will be completed by early June 2022. Residents should expect construction traffic entering and exiting the park entrance and some parking limitations during construction.
For more information, please contact Project Manager Pat Rosend at Patricia.rosend@fairfaxcounty.gov or call 703-324-2387.